REIFICATION
chris zintzen_gue schmidt_fritz fro



Opening date: Tuesday 28/07/2020, 7:00 p.m.

On the subject: Dr. Walter BAIER | transform!europe > REDE/ TEXT/ LINK

DURATION: 28/07 21/08/202
OPENING TIMES: TUE - FRI: 5:00-8:00 P.M.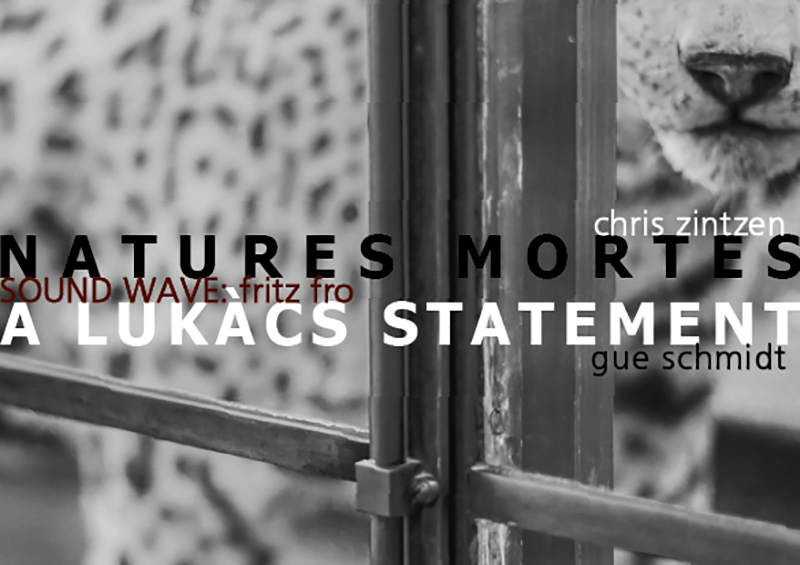 NATURES MORTES_chris zintzen
AAnimals according to nature, staged post mortem for a splendid museum. Sorted and arranged in line with biological taxonomy, the exhibited fauna represents a fake-simile of life and an immobilized projection of nature.

The staging of the mortified fauna exemplifies the "deadly understanding" (Tzvetan Todorov) of the colonizing scientific gaze, which theatrically presents its findings as pieces of prey. The researched living beings do not survive this incorporation into the world of knowledge: their reified carcasses become still lifes (natures mortes) of a macabre probability.

The series of analogue B/W photographs was created in 2002. The pictures were taken with a damaged Olympus OS2, the material is corroded and scratched due to long storage. The perspective of the damaged life remains. The very fragility of life is revealed through its counter-image.


A LUKĀCS STATEMENT_gue schmidt
The installation by Schmidt on the basis of a dictum by Georg Lukācs shows discourse as something established and at the same time fluid: text, staged three-dimensionally in three basins, reflects the statement as a specimen, in its linear, discursive directedness.
What is shown, presented and exhibited is not more and not less than a statement, extracted from a whole (Theory of the Novel), but at the same time a complex whole per se. The material staging invites the viewers to inspect and to examine Lukācss quotation, to engage themselves physically and intellectually with its word form and its possible meanings. It is an eloquently quiet experimental arrangement, which proves that no telling and no sentence can come to an end.


SOUND WAVE_fritz fro
A sound wave vibrates in the space - a wave that vibrates as long as if it were standing in space, and allows the visitor to perceive the sound differently with every step.


texts and pictures

download: texts, pictures and sound




projektroomMAG3
Schiffamtsgasse 17, A 1020 Vienna/ Austria/ Europe
(Accsessible by U2 Taborstrasse and/ or U4 Schottenring/ Exit U2 Herminengasse)
Phone: +43 676 3409218, Email: mag3@mur.at