Ulli KLEPALSKI, Antigonae meets Amrul Mussa
Christine ULM, Extra Exercise

OPENING: Thursday 5th April 2018, 7:30 p.m.

WELCOME: Gue SCHMIDT

TO THE PROJECT: Kurt NEUHOLD, Art- u. Social worker

DURATION: 06.04.-27.04.2018

OPENING TIMES: TUE - FRI: 5:00-8:00 P.M.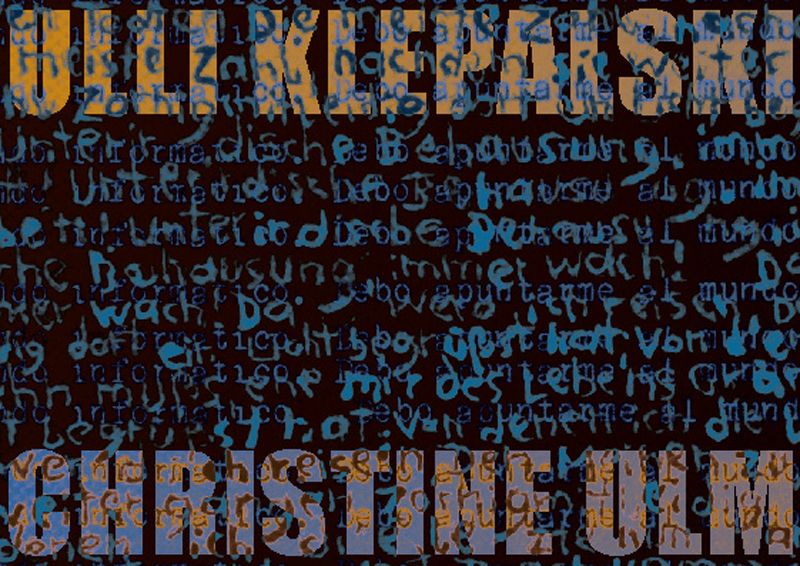 Ulli KLEPALSKI: Antigonae meets Amrul Mussa
As quasi-homage, Ulli Klepalski piles up pictures on different levels of material, using the background or an underlying surface of texts, that is to say a layer of texts, as a basis or basic resource for this work.
By transposition into an individual inter-text she reaches her final sub-text, originally evoked by the primary text.
In the last years she has started to put text and visual reprocessing directly into the tableau. In this way, writing and painting/drawing are directly related to each other and communicate with each other.


Christine ULM: Extra Exercise
The type face and the sound of five typewriters are recorded. The sentences which are typed over and over again deal with the sometimes difficult adjustment to anything new.
The sound of the typewriter keys being struck constitutes the sound sample accompanying the pages of writing.
The sound recordings are being played at the same time, thus producing first of all a mixture of sounds which can be modified by getting closer or moving away from the individual structures.





Im Rahmen von Q202-AtelierRundgang 2018 (20. - 22. April 2018)


MAG3, SCHIFFAMTSGASSE 17, A 1020 VIENNA/ AUSTRIA/ EUROPE
(ACCSESSIBLE BY U2 TABORSTRASSE AND/ OR U4 SCHOTTENRING/ EXIT U2 HERMINENGASSE)
PHONE: +43 676 3409218 / EMAIL: MAG3@MUR.AT