STORIES INSPIRED BY THE PAINTINGS
with Tseno TODOROV, Mario ZHEKOV, Dimatar ARNAUDOV, Lyubomir KASABOV, Petar POPOV, Stefan KATSAROV, Kolyo VITKOVSKI, Yuri BUKOV, Dilo DILOV, Mihail BESHEV, Korneliy BABA, Nikolay KARADZHOV, Hristina PETROVA, Georgi BAEV, Galabin KYOSEV, Edmond DEMIRDJIAN, Nikolay BUZOV, Svilen BLAZHEV, Ivan SHISHKOV.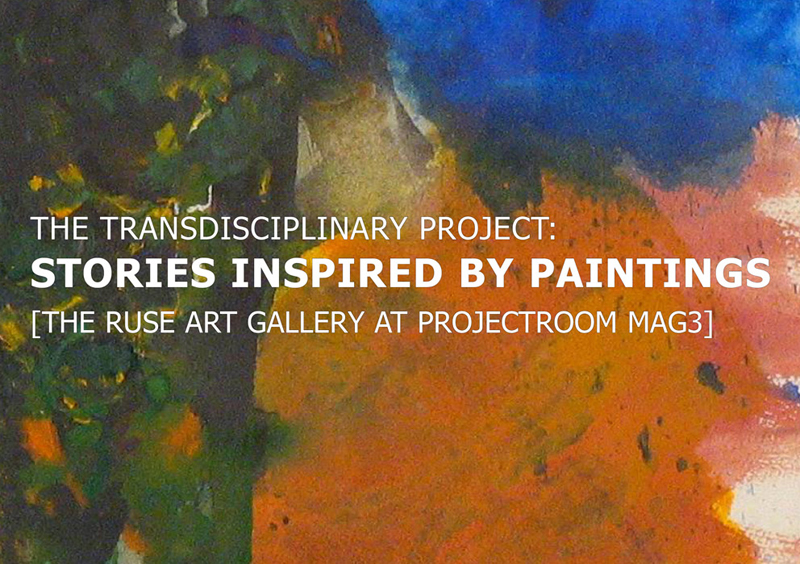 The exhibition consists of several pictorial and graphic works by Bulgarian visual artists. Various writers from the southern Danube riparian countries, such as Croatia, Serbia, Romania, Bulgaria and Austria, have written texts for the individual works, which will be presented to the public during a reading after the opening of the exhibition in the project space.

The texts are by: Alexander CHOBANOV, Angel IGOV, Assen VALENTINOV, Aurel Maria BAROS, Boris BECK, Vasil BALEV, Darek FOKS, Elin RAHNEV, Emil ANDREEV Kalin VASILEV, Kalin TERZIYSKI, Cristian FULAS, Lisa HILTON, Neli PIGULEVA, Rumen LEONIDOV, Hristo KARASTOYANOV, Yavor TSANEV.

A selection of these texts will be read by the Bulgarian specialist in German studies Penka Angelova.
Prof. Penka ANGELOVA is president of the Elias Canetti Society in Ruse and professor of the history of literature of German-speaking countries at the University of Veliko Tarnovo / Bulgaria.


OPENING: MONDAY, 27 AUGUST 2018, 6:30 PM

WELCOME SPEECH: Gue SCHMIDT (projectroomMAG3)

ON THE EXHIBITION: Elena VELIKOVA (Director of Art Gallery - Ruse)


INAUGURATION: Rumjana KONEVA (Head of the Bulgarian Cultural Institute Haus Wittgenstein - Vienna)

OPENING OF THE EXHIBITION: Uschi LICHTENEGGER (District Head Leopoldstadt - Vienna)

DURATION: 27/08 - 30/08/2018

OPENING TIMES: TUE - FRI: 5:00-8:00 P.M.



MAG3, SCHIFFAMTSGASSE 17, A 1020 VIENNA/ AUSTRIA/ EUROPE
(ACCSESSIBLE BY U2 TABORSTRASSE AND/ OR U4 SCHOTTENRING/ EXIT U2 HERMINENGASSE)
PHONE: +43 676 3409218 / EMAIL: MAG3@MUR.AT