Herwig STEINER (1956L) | THE ART OF THE DUMMY
21 Videos | Scenery Drawings


OPENING: TUESDAY JUNE 8, 2021, 4:00 PM 8:00 PM

* 6:30 PM * Preface: Gue SCHMIDT

* 6:45 PM * Peter ZAWREL in conversation with Herwig STEINER

DURATION: 08.06.30.06.2021
OPENING HOURS: TUES. FRI., 4:00 p.m.- 7:00 p.m.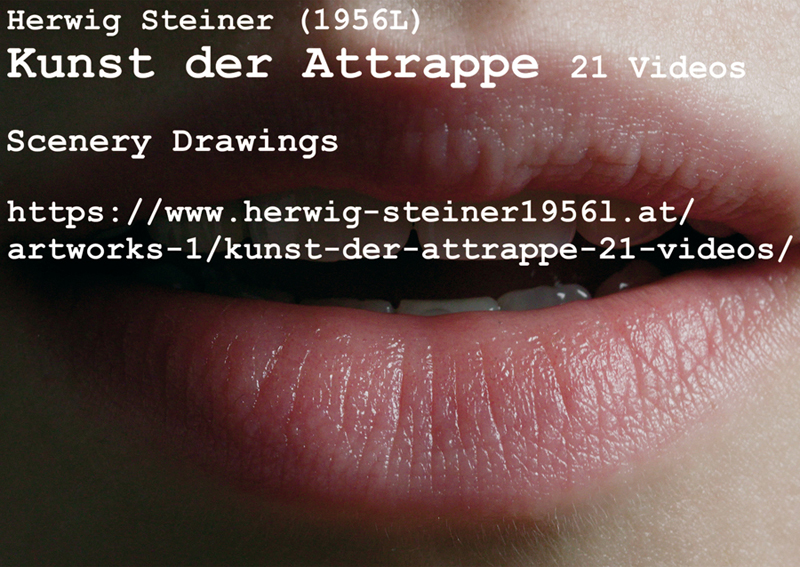 What are we? Are we the way we are reflected by our surroundings? That is to say, would we be different if we were in different contexts? We are least of all what we believe to be. Or even, what has been transferred from this belief into a habit that rushes ahead and makes us perform every day. Only sketches, sophisticated stagings; perhaps there is no such thing as a self? Our consciousness, our conscousnesses (or should we stick to the mandatory singular; is there only a single one?) are diligent creators of signs.

In their abundance, signs indistinctly sediment shapes that resemble landscapes, like ruins of utterance which appear to have collapsed under the burden of their overgrowth while trying to draw a picture. If it was possible to take a step back, they would remain shrouded in mist and would not reveal a clear view. They only pretend to do so. Since it is well known that whoever is trying to analyse these phenomena continues in the criticised, surrogate and equalising, in any case deficient manner. In this way, paradoxes are created (which will be elaborated on later in this text). It seems at first sight that there is no egress for us, which is why I am not interested in the academic semiotics. Self-reflections will never be successful.

From: Herwig Steiner (1956L) / The art of the dummy/ Passagenverlag Vienna 2019 / p.47
Herwig Steiner (1956L)



projektroomMAG3
Schiffamtsgasse 17, A 1020 Vienna/ Austria/ Europe
(Accsessible by U2 Taborstrasse and/ or U4 Schottenring/ Exit U2 Herminengasse)
Phone: +43 676 3409218, Email: mag3@mur.at
PLEASE NOTE AND OBSERVE:
Due to Corona requirements, only up to 6 people will be allowed into the room at the same time. 10 people are allowed to gather on the sidewalk. We would also like to ask all visitors to keep a distance of at least 2m from each other and to wear a facemask (FFP2). Disinfection options are provided and the hygiene regulations are observed. Unfortunately, the toilet in the stairwell cannot be used.