Hans-Jörg LOHN | Gerd MENIA



Unfortunately, we have to inform you that the opening of the exhibition LOHN / MENIA on Wednesday, November 4th, 2020 at 7:00 p.m. in projektraumMAG3 cannot take place - we would have been delighted about your visit.

The Mose Duo concert on November 20, 2020 has also been temporarily canceled!

The opening of the exhibition and the concert can possibly be rescheduled for a later date.

The MAG3 room is open from 5th Nov. Only accessible to individuals with a face mask from Tuesday to Friday (4:00 p.m. to 7:00 p.m.), with prior appointment by telephone on +43 676 3409218.

Disinfection options are provided by us, the hygiene regulations and distance rules are observed.




OPENING: Wednesday, 4 th November 2020, 7 P.M.

Preface: Gue SCHMIDT [projektroom MAG3]

To the work of Lohn: Lucas GEHRMANN

To the work of Menia Karin HAZELWANDER

DURATION: 4th NOVEMBER 27th NOVEMBER 2020
OPENING TIMES: TUE - FRI: 5:00-8:00 P.M.



AND A CONCERT: FRIDAY, 20th NOVEMBER, 7 P.M.
MOSE DUO= Thomas KUSCHNY (GUITAR, ELECTRONICS), Herbert WALSER-BREUSS (TRUMPET)

¡¡¡ Since only a limited number of people are allowed in the room, we ask you please to register at +43 676 3409218 !!!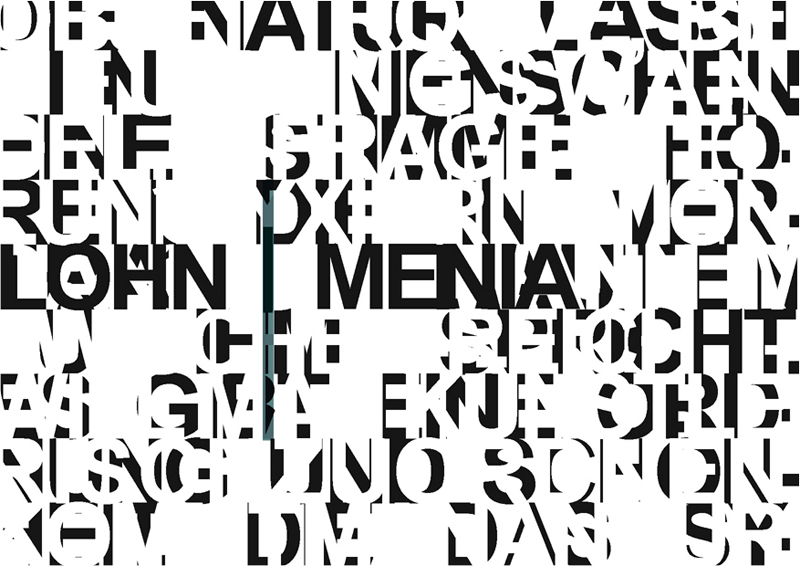 Hans-Jörg LOHN is on his way out of the dead ends of surreal traditions and their derivatives in Austria, bypassing their stylistic specifics in favour of an independent sign language, which feeds on the delight in (re)interpreting (found) objects. Games and jokes, secret languages and social criticism, searching for an identity and questioning values always seem to go hand in hand. Sometimes even his name becomes a part of the Lohnsian metamorphoses of meaning: drawings turn into pay slips; the payable fee becomes a simple wage.

Gerd MENIASs pieces of turf show a world in miniature, a part of the whole, a microcosm that can also stand on its own. Different types of grasses, wilting leaves, blossoms, but also subaqueous weeds, almost levitating, which sway in the rhythm of the water.
In this context one has to mention the Pieces of Turf by Albrecht Dürer and the large-size woodcuts by Franz Gertsch. Whereas Menia lays out the drawings of these plant worlds naturalistically, the alienation is created later on in ones head. In this sense they could be called, inter alia, psychedelic





projektroomMAG3
Schiffamtsgasse 17, A 1020 Vienna/ Austria/ Europe
(Accsessible by U2 Taborstrasse and/ or U4 Schottenring/ Exit U2 Herminengasse)
Phone: +43 676 3409218, Email: mag3@mur.at




PLEASE NOTE AND OBSERVE:
Due to Corona requirements, during the opening only up to 12 people will be allowed into the room at the same time. 10 15 people are allowed to gather on the sidewalk, another 10 people can stay in the courtyard/garden. We would also like to ask all visitors to keep a distance of at least 1m from each other and to wear a face mask. Disinfection options are provided and the hygiene regulations are observed. Unfortunately, the toilet in the stairwell cannot be used.