IN AROUND, AT AROUND AND ALL AROUND AROUND
THOMAS KUSCHNY, GUE SCHMIDT
Date: 13.12.2012 Time: 7:00 p.m.
(world premiere!)
If someone who has been invited, in turn invites the one who has invited him in the first place, what is that? If a room moves but one does not, what kind of room is that? If one gives a concert, but before doing so says that this will not be a concert, what is it that he is giving?

In the end, we have planned to abstain from presenting each other with anything, yet we do it:
Thomas KUSCHNY (invitee), experimental musician = sound
Gue SCHMIDT (invited inviter), experimental visualist = projections

A present to everybody. Not because it's the right season - but because we are able to.

Limited seats available! Limited standing room available! Limited duration! No reprise!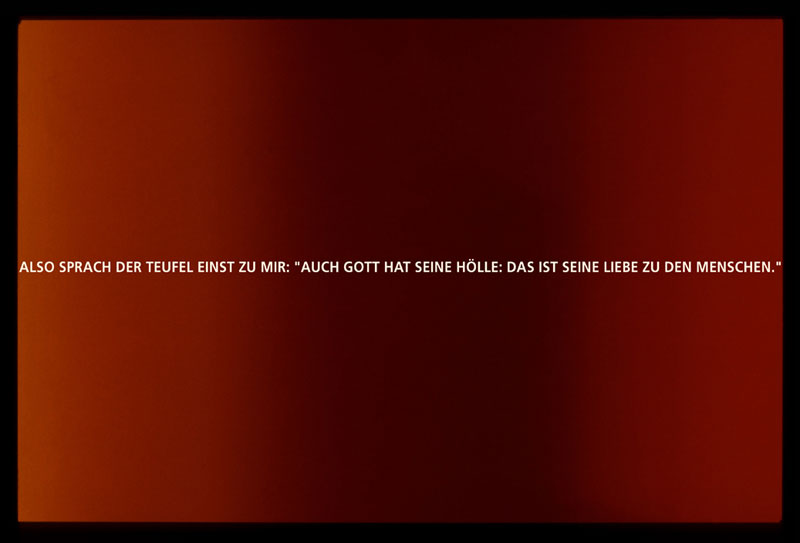 WE START ON TIME!
Afterwards: a presentation of the catalogue RETROSPECTIVE will possibly take place.

Text fragment in picture, from: The pitiful, Thus spoke Zarathustra, Friedrich NIETZSCHE.

MAG3, SCHIFFAMTSGASSE 17, A 1020 VIENNA/ AUSTRIA/ EUROPE
(ERREICHBAR ÜBER U2 TABORSTRASSE ODER U4 SCHOTTENRING/ AUSGANG U2 HERMINENGASSE)