Fluxus on Vinyl (Installation)
Commissioner HJULER (G) +/- Wolfgang KINDERMANN (A)



Opening: Tuesday, 30/06/2020, 7 p.m.

Preface: Gue SCHMIDT

About the project: Wolfgang KINDERMANN

Performance: Commissioner HJULER +/- Wolfgang KINDERMANN
BOOK PRESENTATION

DURATION: 30/06 22/07/2020
OPENING TIMES: TUE - FRI: 5:00-8:00 P.M.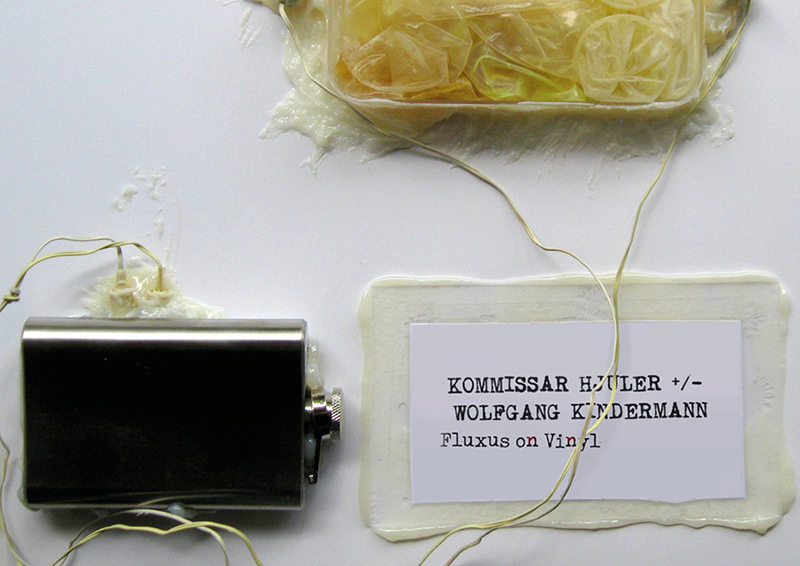 This exhibition in the project room MAG3 combines Flux Specials, i.e. hand-made LPs, and cover-objects by Hjulers, which were made from fragments of Kindermanns books or other objects from his possession and/or sound works by Kindermann and Hjuler.

The German artist Commissioner HJULER, together with his partner Mama Baer, works in the areas of visual arts, sound art, film and performance.
Fluxus +/-is the title of a series of records, which Commissoner Hjuler has been compiling since 2014 for the label Psych KG from Euskirchen. These are above all LPs in very small editions (100 copies or less), for which Hjuler also provides hand-made one-offs, Flux Specials.

The Austrian author and sound artist Wolfgang KINDERMANN has been working with Hjuler since 2017. On the one hand, his acoustic works have appeared several times on split LPs with Comissioner Hjuler and other artists on Psych. KG, on the other hand Hjuler has repeatedly used fragments from Kindermanns books for his hand-made Flux Special objects on Fluxus on Vinyl publications.

In his literary work; Kindermann assembles and condenses exceptional circumstances and the same could be said about Hjulers artistic style: the assembling and condensation of materials and motives which seem incoherent at first sight.



PLEASE NOTE:
As there are some objects of pornographic character among the works in the exhibition, ADULTS UNDER 18 YEARS ARE NOT ALLOWED!





projektroomMAG3
Schiffamtsgasse 17, A 1020 Vienna/ Austria/ Europe
(Accsessible by U2 Taborstrasse and/ or U4 Schottenring/ Exit U2 Herminengasse)
Phone: +43 676 3409218, Email: mag3@mur.at