ON THE ONE SIDE
ON THE OTHER SIDE
Elisabeth GRÜBL



OPENING DATE: THURSDAY 11/10/2919, 7:00 P.M.

Preface: Gue SCHMIDT (MAG3)

To the exhibition: Burghart SCHMIDT

DURATION: 11/10 06/11/2919
OPENING TIMES: TUE - FRI: 5:00-8:00 P.M.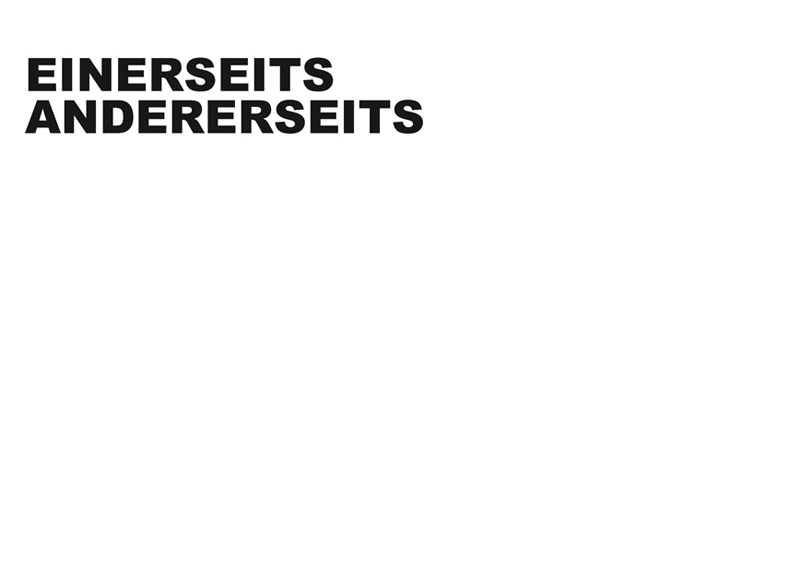 .
ON THE ONE SIDE
ON THE OTHER SIDE

On the one hand
On the other hand

The phrase on the one side is mounted on one wall, the phrase on the other side on the opposite wall.
Spatial and contentual confrontation

The phrase on the other side points to the opposite wall and, by transgressing the limits of the room, it also points to the other side of the wall, to the adjacent room.

What is there on one and what on the other side?
ZAt the same time one side as well as the other.

Discourse of contrasts

The argumentative intention of contrasts shows in certain concepts that reality is more complex than its image pretends to be. This work deals with the space between meanings.

This project is a work within the limits of space, dealing not with contrasts based on judgements but with the discourse on value judgements itself.





projektroomMAG3
Schiffamtsgasse 17, A 1020 Vienna/ Austria/ Europe
(Accsessible by U2 Taborstrasse and/ or U4 Schottenring/ Exit U2 Herminengasse)
Phone: +43 676 3409218, Email: mag3@mur.at