THE IDENTITY OF EUROPEAN CAPITAL CITIES AS REFLECTED IN THEIR SHOP-WINDOWS
AN ART PROJECT by Renate und René Eisenegger


Opening: Wednesday 10th May 2017, 7:00 p.m.

Welcome and Introduction: Gue SCHMIDT
On the project: Renate + René EISENEGGER

Duration: 11.05.2017 - 07.06.2017

Opening times: Tue -Fri: 5:00-8:00 p.m.

Six years ago Renate und René Eisenegger started their exploration of the European Union's capital cities posing the question if their shop windows might hint at the different countries' sensitivities. Are there any national particularities?
Everywhere international enterprises are on the advance, gigantic shopping centres and shopping malls with an identical range of products are developing or have already been installed - small shops are disappearing.
We are currently in a phase of upheaval - and that is just the reason why the thousands of photos they have taken are especially important as a memory bank.
By the end of 2016 they had travelled to all the 28 countries of the EU.

Their project is an art project. They work with photography in a special way. The shop windows are perceived from the point of view of the flâneur, that means one does not only see what is on offer but at the same time passers-by, buildings, parts of the particular city. This results in a conglomerate of the diverse impressions a pedestrian is exposed to while shopping. And the particularities of the city become noticeable.

The result of their photographic investigation is: shop windows are mirrors. They can be used for research. Their archive informs about a Europe in times of upheaval.

The project room MAG3 is the first station where a part of the material - under some points of view - is made accessible to the public in the framework of an installation/exhibition - further presentations will follow.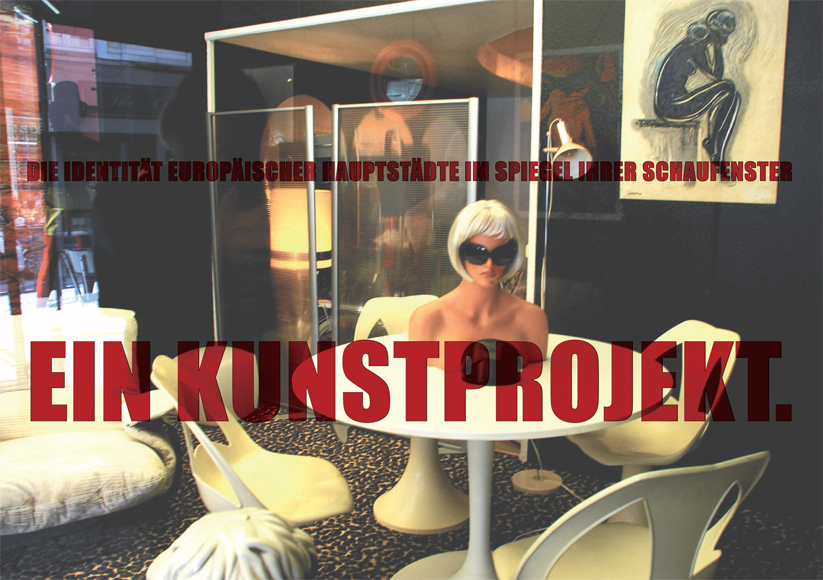 MAG3, SCHIFFAMTSGASSE 17, A 1020 VIENNA/ AUSTRIA/ EUROPE
(ACCSESSIBLE BY U2 TABORSTRASSE AND/ OR U4 SCHOTTENRING/ EXIT U2 HERMINENGASSE)
PHONE: +43 676 3409218 / EMAIL: MAG3@MUR.AT