RETROSPECTIVE / 10YearsMAG3
Presentation of images, sounds, film and media works of all involved artists of the exhibitions and installations in the project room MAG3 artists since 2006 (-2015).


Opening + Pesentation of a video:
Wednesday, 16th September 2015, 7 p.m.

On the exhibition: Gue SCHMIDT

Duration: 10.03. - 01.04.2016, Opening times: Tuesday to Friday 5 p.m.-8 p.m.



The presentation includes the 10-year period since the founding of the project space MAG3 (2006); its thematic reference, we pursued since the beginning of existence of MAG3, can be described as follows:

Only in art has the gentrified society tolerated the reaisation of its own ideals and has taken them seriously as a general demand. What is regarded as an utopia, fantasy, upheaval in reality is allowed there. The affirmative culture has shown forgotten truths in art, which are crowed over in daily life by the justice of reality. The medium of beauty detoxifies the truth and departs it from the present. What happens in art does not entail any commitment. Unless such a beautiful world is not entirely represented as a phenomenon of the past, it is deprived of its topicality precisely because of the magic of beauty. Human beings could partake in happiness in the medium of beauty, but beauty was only accepted with a clear conscience in the ideal of art, since it comprises a dangerous power, which can endanger the given form of existence. The immediate sensuality of beauty immediately refers to sensual bliss. The decisive character of beauty is to arouse lust; lust is not only an implication of beauty but constitutes its essential character. (H.M.)

Among the 23 positions are media-, sound- and language based works, installations and film projects, as well as works of fine art.
Furthermore, a video film of Fritz FRO will be presented wherein all exhibitions, installations, performances and projects that have been shown in the project room MAG3; the movie has a duration of about seven minutes.

The works come from:

Nora BACHEL (A), Gottfried BECHTOLD (A), Gustav BÖHM (A), Osvaldo CIBILS (ROU), Felipe EHRENBERG (MX), Josef FLOIS (A), Fritz FRO (A), Romana HAGYO (A), Leon HAINZL (A) Gertraud HASSELBACH (GER), Maria HUBINGER (A), Francisco KLINGER CARVALHO (BR), Thomas KUSCHNY (A), Werner LANG (A), Silke MAIER-GAMAUF (A), Adriana MARMOREK (CO), Assunta ABD El AZIM MOHAMED (A), Helga PETRAU-HEINZEL (A), Claudia PLANK/ Hans Werner POSCHAUKO (A), Tulio RESTREPO (CO), RHIZOM (A), Christiane SPATT (A), Edgardo Antonio VIGO (RA) and myself.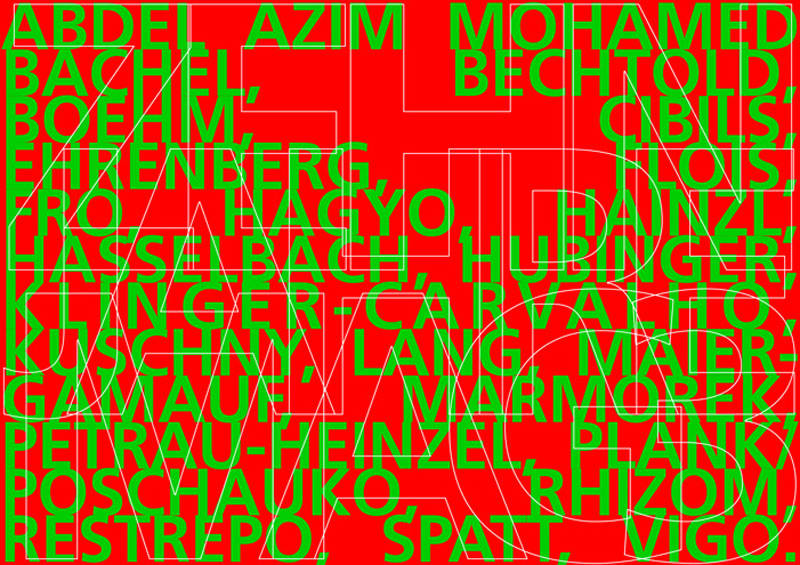 10 Jahre MAG3 from Fritz Fro on Vimeo.

MAG3, SCHIFFAMTSGASSE 17, A 1020 VIENNA/ AUSTRIA/ EUROPE
(ACCESSIBLE BY U2 TABORSTRASSE AND/ OR U4 SCHOTTENRING/ EXIT U2 HERMINENGASSE)